This tour has 5 nodes/spots in all. To view each of the spot, please hover the mouse over the thumbnails and click on it in the bottom middle of the tour window. If you wish to view this sopt on the map, click on the co-ordinates.
Co-ordinates: 15.350860, 78.138479
Yaganti
Sri Uma Maheswara Temple of Yaganti is a temple dedicated to Lord Shiva in Kurnool District in the Indian state of Andhra Pradesh. It was built according to Vaishnava sampradaya and is located in the middle of the Erramala Hills that offer immense natural beauty and unique setting to the locality.There are a several natural caves in the hills around the temple which were home for several saints throughout the ages. Saint scholar Veerabrahmendra swami, popularly known as Potuluri Veera Brahmam Garu, stayed here for some time and wrote Kalagnanam.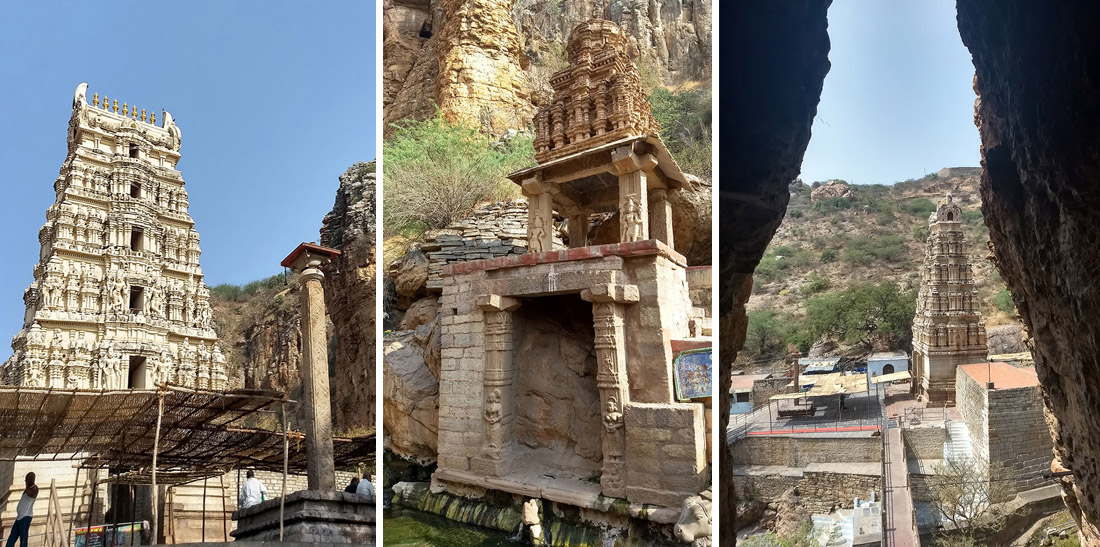 Yaganti Uma Maheswara Temple is one of the few temples patronized by some of the great dynasties of India. This temple was constructed by Harihara Bukka Raya of the Sangama Dynasty of the Vijayanagara Empire in the 15th century. To understand what made the kings of Vijayanagar build a temple in a place like Yaganti, located in the middle of a hostile terrain like the dry, rocky region of the Erramala hills… one should be open to hone the skills of unfolding and understanding the secrets of the magnificient Naure…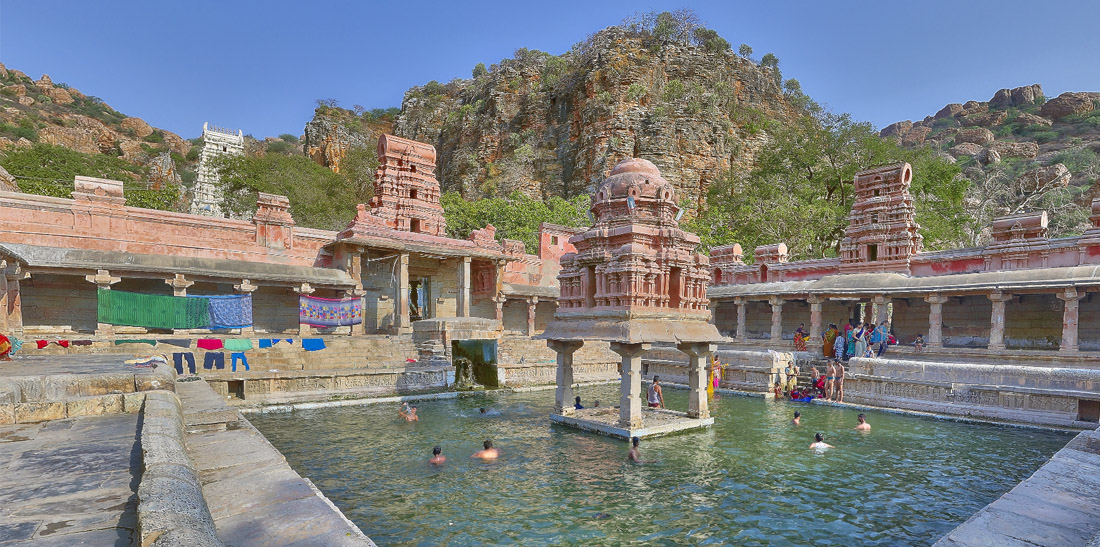 An amazing feature of this temple is its Pushkarini with very pure water. No one knows how the water flows into Pushkarini in all the seasons. Devotees consider that a bath in the holy Pushkarini before visiting Shiva is highly beneficial.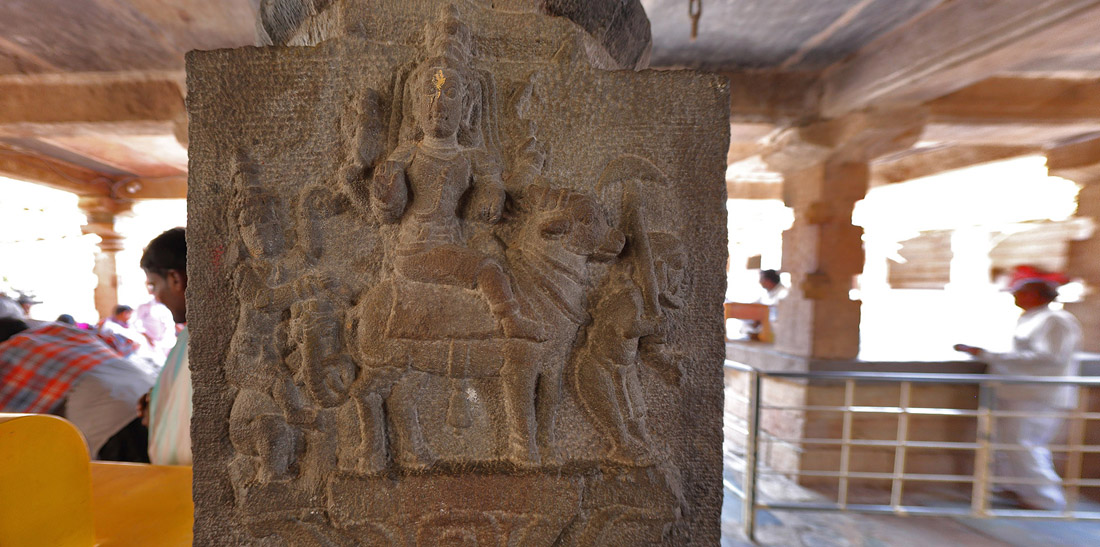 Every year Maha Shivaratri is celebrated and a large number of devotees from all over Andhra Pradesh visit. Shiva, Parvati and Nandi are the main deities in this temple.This temple is 14 km away from Banaganipalli in kurnool district.
Etimology
Sage Agastya wanted to build a temple for Lord Venkateswara on this site. However, the statue that was made could not be sloenmized as the toe nail of the idol got broken. The sage was upset over this and performed tapasya for lord Shiva. When Shiva comes forth to see sage Agastya for his tapasya and says the place suits Shiva better as it resembles Kailasa. Agastya then requested lord Shiva to manifest along Goddess Parvathi as Lord Uma Maheswara in a single stone, which Shiva obliged.

Legends
As per legend, crows do not fly in Yaganti. When Sage Agastya was meditating here, Kakasura, king of crows disturbed him from his meditation so, he cursed the crows not to enter the premises. Thus, Shani also can't enter this place as crow is the vehicle of Shani. Thus anyoe suffering fron the punishments of Shaneeshwara are naturally protected here from shani peeda.

The Pushkarini, Agastya Cave, Venkateswara cave, Veera Brahmam Cave and offcourse, popularly known Yaganti Nandi are the not to miss here besides the magnificient yerramala hills
How to reach
Yaganti is well connected by road and is about 100 km fron Kurnool and is about 14 km from Banaganapalle. Nearest railway station Nandyal is about 55 km and nearest airport is about 290 km at Hyderabad

Stay
There are a couple of community guest houses at yaganti with moderate facilities and air conditioned rooms which provide meals too the visitors, if one wishes for a fancy stay, Kurnool is about 2 hours and Nandyal at about an hour and Banaganapalle is about 10 minutes from Yaganti.
Watch videos: