This tour has 2 nodes/spots in all. To view each of the spot, please hover the mouse over the thumbnails and click on it in the bottom middle of the tour window. If you wish to view this sopt on the map, click on the co-ordinates.
Co-ordinates: 13°41'6.90″N 79°19'43.55″E
Shilathoranam
Natural Arch, Tirumala hills is a distinctive geological wonder located 1 km North of the Tirumala hills temple, near the Chakra Teertham in the state of Andhra Pradesh, India. The Arch is also called Silathoranam in local language . The arch measures 8 m in width and 3 m in height, and is naturally formed in the quartzites of Cuddapah Supergroup of Middle to Upper Proterozoic (1600 to 570 Ma) due to natural erosive forces.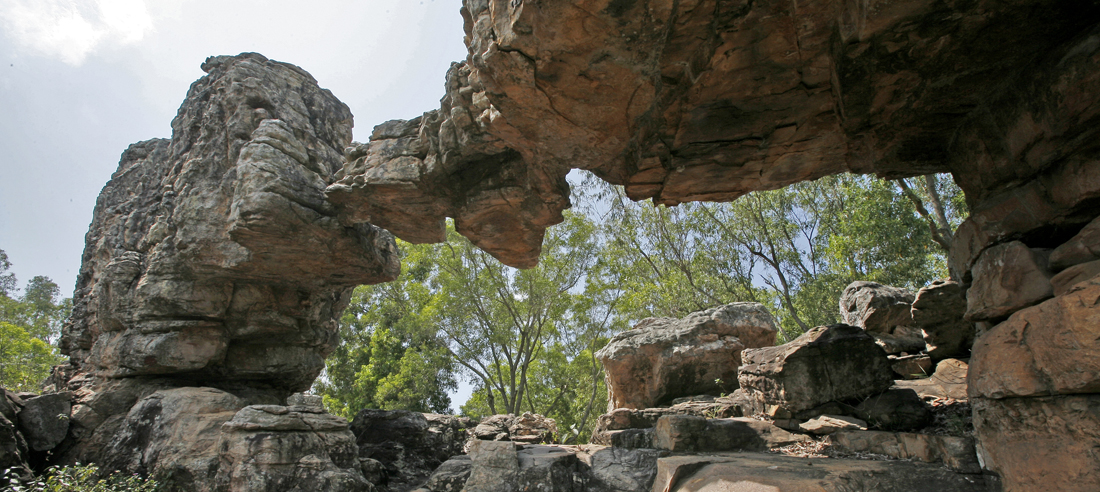 During excavations for a geological fault in the Tirumala hills in the 1980s, geologists found this rare geological formation of the rock arch which has two dissimilar sets of rocks with a connecting thin link. The assessed geological age of the rock arch is 2.5 billion years.
Mythological folklore related to the arch, linked to the famous Tirumala hills temple of Lord Venkateswara, has three versions.

According to one version, the arch resembles the hood of a serpent, a Shank and a chakra – all symbols of worship in Hindu religion – and considered to be the source of the Idol of Lord Venkateswara or at the Tirumala hill temple.

The second version is that the main deity in the Tirumala temple is of the same height as the height of the arch

The third version is that Lord Vishnu called Venkateswara (the Central deity of Srivaishnava tradition) at the Tirumala temple town, is supposed to have put his first foot down at a place called Sreevaripadalu which is the highest point of Tirumala hills, the second step at the location of the arch. Thereafter, the next step is stated to have been placed where his idol is now worshipped in the temple at Tirumala.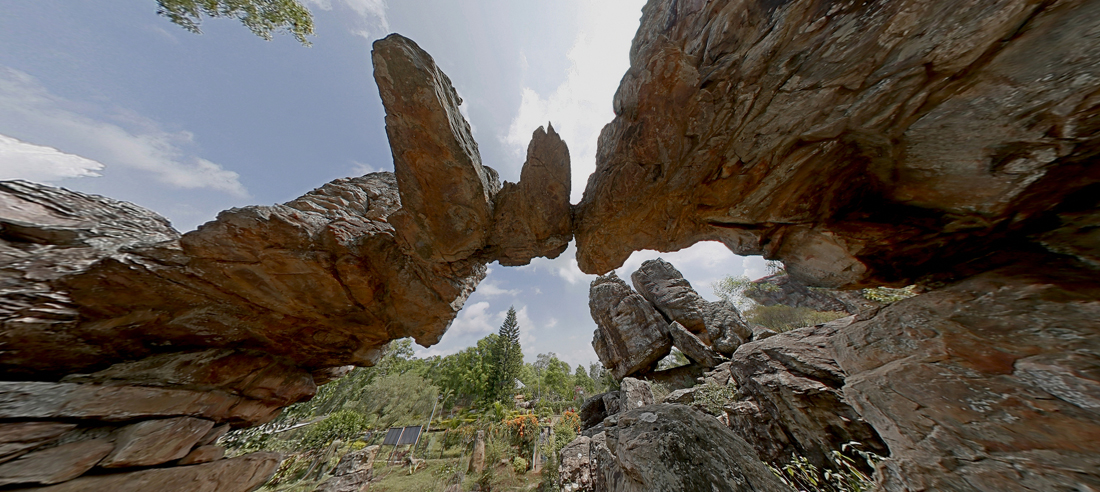 Watch video: