This tour has 15 nodes/spots in all. To view each of the spot, please hover the mouse over the thumbnails and click on it in the bottom middle of the tour window. If you wish to view this sopt on the tour map, click on the Map button on the left bottom corner.
Bheemuni Kolanu
This route starts from two places of which, one is from Siddhavatam and other is from Alampuram and both are the Gateways of Srisailam. Siddhavatam is the southern Gateway and is in present Kadapa District and Alampuram is the western Gateway and is now in Mahaboobnagar district. In this route Atmakur is the junction to which pilgrim reach through Nandyal from Siddhavatam and by crossing the river Tungabhadra from Alampuram. They travel from Atmakur to small villages of Krishnapuram, Venkatapuram, Siddhpura, and to Nagalooty and up to this the journey is on plains. Nagalooty is a place of temple complex that dates to Vijayanagara period.


The road from Nagalooty to Pedda Cheruvu which is between two steep hills is paved with well laid Solid Stone steps. These steps were supposedly laid down by the Reddy Kings in 14th Century. And the two dilapidated Temples which you can see here and locally called as Bheemeswara and Bheemunikolanu temples are supposed to be constructed in 8th – 10 AD.
Legend has it that, when the Pandavas were in exile in the Dandakaranya to quench their thirst, Bheema broke a sheetrock with his mace which resulted in the gushing of spring water. Thus this small pond has got to be called as Bheemunikolanu. To offer his prayers Bheema was supposed to have installed an Idol of Siva lingam. Hence this temple has been called as Bhīma Linga. Mention of this place and the pond has also been done in the Srisaila Khanda of Skanda Purana.
The walk down through this path presents some of the most breath taking views of the forest with waterfalls and a heavily dense forest all along the way. The trek is worth the risk. But be careful with the wild animals. Located between two steep hills, the rock ledge endowed with spectacular water falls, Bhemmuni Kolanu is the place through which the ancient foot path to Srisailam from the Southern and Western sides passes.
Reaching Bheemuni Kolanu:
To reach Bheemuni Kolanu, you to take the mud road opposite to Phaaladhara Panchadhara for about 5kms to reach Kailasa Dwaram and park the vehicle. From here you have to climb down three hills and in the bottom of the third hill you'll find Bheemuni Kolanu. One has to check with the local Forest authorities to plan a trip to Bheemuni Kolanu.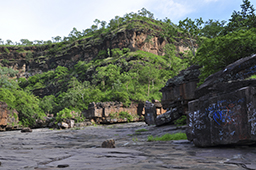 Where to stay:
There are plenty of options available for stay at Srisailam. The other nearest option is Sundipenta where one can get private hotels and lodges.
Watch video: