This tour has 3 nodes/spots in all. To view each of the spot, please hover the mouse over the thumbnails and click on it in the bottom middle of the tour window. If you wish to view this sopt on the tour map, click on the Map button on the left bottom corner.
CHATRAVATA NARASIMHA
This Deity of the Lord is very unique as He has got a very beautiful wide smile on His face. Since the Lord is worshiped under a peepal tree, surrounded by the thorny bushes, He is famous as Chatravatha Narasimha. The left hand of the Lord is in the tala mudra. This tala mudra is not seen in any other form of the Lord in any other place. Lord Indra and the other Devagana worshiped the Lord here and requested Him to kill the demon-king. This temple is also known as Devata-aradhana kshetra.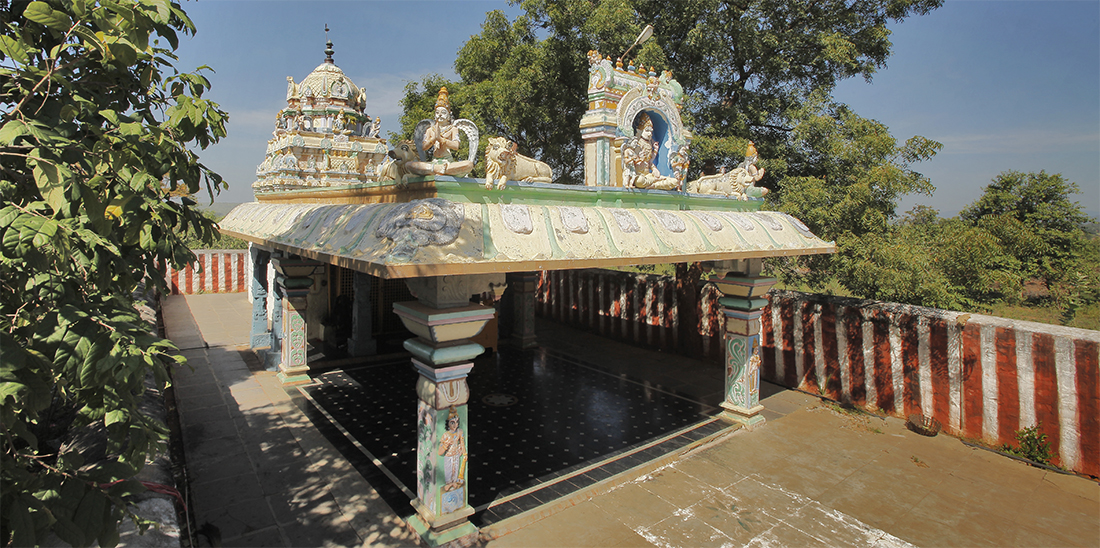 The shrine is named after the tree under which it's built, Chatravata (Peepal Tree), it houses a joyous form of Narasimha. The face of the idol is filled with smile and the left hand is in the position of taala, the rhythm of classical music. The legend says that two Gandharvas named Haha and Hoohoo came here from the Meru Parvata and entertained the Lord with the sweetness of their soulful music. Pleased with their performance, Lord asked if they had a wish. They requested that their names forever be associated with appreciation of dance and music. The Lord blessed them that they would attain fame as great singers. And, 'Aaha' and 'Ooho' came to be the exclamations of praise.
This place has an approach road and vehicles can drive up to the temple.
Watch video: