This tour has 8 nodes/spots. To view each of the spot, please hover the mouse over the thumbnails and click on it in the bottom middle of the tour window. If you wish to view this sopt on the tour map, click on the Map button on the left bottom corner.
The Raja Mahal
The Chandragiri Fort is one of the magnificent fortification structure built in 1000 AD by the Yadavarayas. It has been the capital of the erstwhile Vijayanagar Empire since 1367 AD and was later conquered by the Qutubs. The main building, also referred to as 'The Raja Mahal' (Meaning- the King's Palace) is a magnificent embodiment of the Hindu architecture.
Chandragiri, denoting the 'Hill of the Moon', is traditionally associated with Chandra the Moon god who performed penance at this place for pleasing Lord Siva. Punctuated with fertile lush green fields, ponds and hillocks this picturesque place attained prominence during the medieval times.

Chandragiri Fort rose into prominence in 1568 AD and remained as seat of power for the later Vijayanagara kings under whose reign the fortified area was further extended and some of the magnificent buildings and temples were constructed. Some of the important kavyas of Vijayanagara period are said to be composed here.

These majestic structures in the fort premises, with colourful lighting, enhances the beauty of this place. It stands as an excellent example of the Indo-Saracenic architecture. The central durbar occupies two storeys that are crowned by Dravida-Vimana. The roofs are supported by massive pillars in groups carrying cross arches with strong square ceilings, which are decorated with stucco figurines.There are two sound and light shows in the fort premises in the regional language as well as in English which starts in the evenings.

Contrary to the popular belief that this place was meant for the queen or harem, the epigraphical record available from the basement speaks this building being a commander's quarters.

The Rani Mahal or the Queen s palace is built in similar style with the ground floor resembling a stable and the first floor having quarters or rooms to stay. These quarters have attractive shikharas (towers) with flat roofs.

Queen's Palace: Similar to the Kings palace in style and method of execution, this edifice with ground floor looking like a stable and first floor containing quarters adorned with ornamental sikhara has a flat roof.

The Chandragiri Fort was once upon a time the Capital city of the Vijayanagara Empire and is linked with the Aravidu dynasty. Over the time many parts of this fort were damaged and one can get to see the ruins but for the two robust structures witnessing the earstwhile popular dynasty.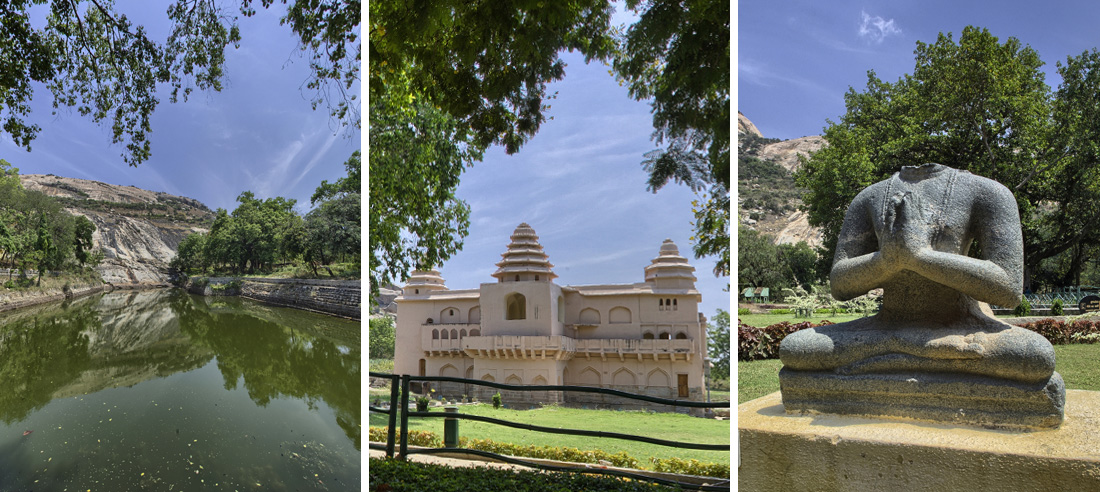 ……As you explore more and more, you'll discover and feel the royal lifestyle of our kings in the past.