This tour has 4 nodes/spots. To view each of the spot, please hover the mouse over the thumbnails and click on it in the bottom middle of the tour window. If you wish to view this sopt on the tour map, click on the Map button on the left bottom corner.
Believed to have been made during the period 100 BCE to 100 CE, probably under the patronage of the Satavahana dynasty (230 BCE – c. 220 CE) who ruled the region. This apsidal chaityagriha (18.24 X 8.04 m) belongs to the Hinayana phase of Buddhism. The chaityagriha consists of an entrance door, two side windows, central hall, nave flanked by side aisles (pradikshana) on either side separated by a row of 23 pillars and a stupa, the object of worship.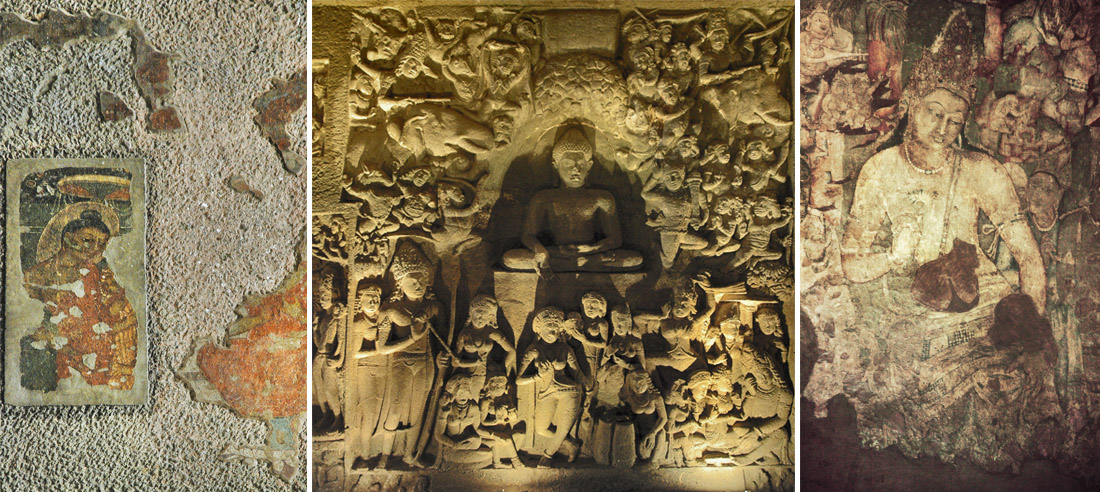 Cave 9 Exterior
Cave 9, an early chaitya hall, dates to the 1st century BC. Its entrance facade, like most of the chaityas, includes a large chaitya arch framing a window with imitation timber construction. The large window was usually the first feature to be cut into the rock of a chaitya. It served two purposes: it allowed light into the cave, and it permitted rock to be easily removed from the cave during the process of excavation. Excavation then proceeded from the top down, a painstaking process which at least had the benefit of not requiring scaffolding during construction.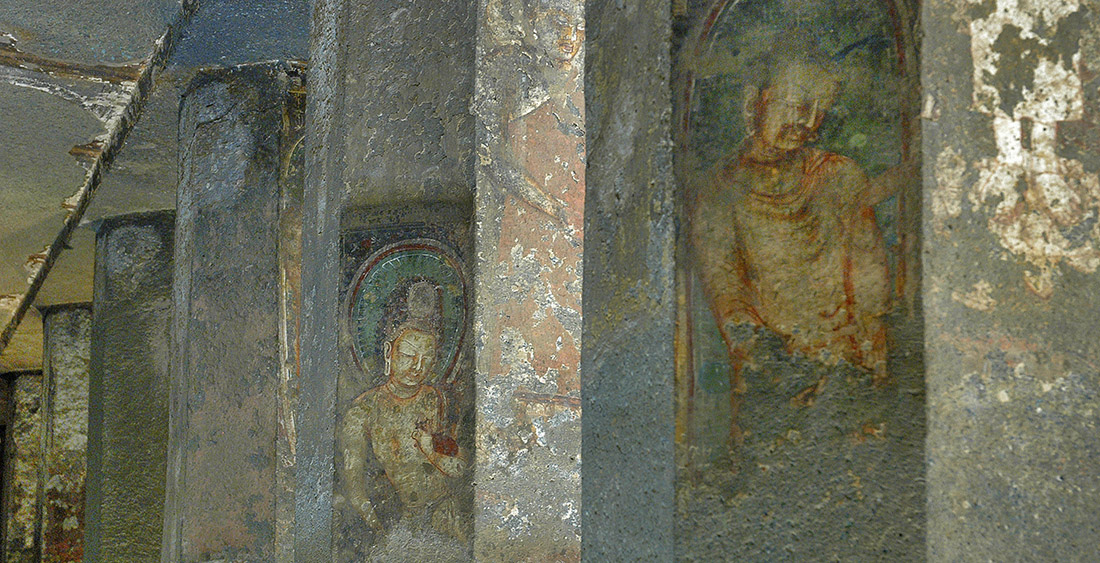 Standing Buddha
There is a Standing Buddha on the tall stupa In the chaityagriha & is datable to fifth century A.D. The stupa itself is crowned with an umbrella that nearly touches the roof.
The buddha is seen with the stupa, probably refering to a transition from the hinayana to the mahayana style of buddhism.It is a gathering hall for worship. The carving is intricate. The facade is elaborate, with pilasters, which were to be copied in other caves later. There are heavy bodied, strong, somewhat squat yaksha guardians, flanking the right and the left side of the main arch. The trickles of their hair fall like fountains while they are profusely garlanded and bejeweled. On the base of the big stupa at the center of the chaitya hall are dancing dwarfs.
Coordinates: 20°33'12.75″N 75°42'1.41″E
Sanctum Sanctorum
This squarish monastery consists of a hall, sanctum sanctorum, pillared verandah and is datable to first half of sixth century A.D. This is the largest monastery at Ajanta measuring (35.08 X 27.65 m). The door frame is exquisitely sculpted flanking to the right is carved Bodhisattva as reliever of Eight Great Perils. The cave was once painted, traces of which can be noticed. The ceiling of the hall preserves a unique geological feature of a lava flow. The sanctuary houses a colossal statue of the Buddha in preaching pose flanked by bodhisattvas and celestial nymphs hovering above.