This tour has 2 nodes/spots in all. To view each of the spot, please hover the mouse over the thumbnails and click on it in the bottom middle of the tour window. If you wish to view this sopt on the map, click on the co-ordinates.
Co-ordinates: 13°37'47.8″N 79°25'04.6″E
Govinda Raja Swami Temple
Sri Govindaraja Swamy temple is one the most important and ancient temples located in the heart of the temple city – Tirupati. Renowned Sri Vaishnavaite, Saint Ramanujacharya consecrated this temple in 1130 AD. Before Lord Sri Govindaraja Swamy, Sri Parthasarathi Swamy was the presiding deity of this temple. The temple is one of the earliest structures in Tirupati and also one of the biggest temple complex in Chittoor district. The Tirupati city is built around this temple.
The daily rituals in this temple are performed according to "Vaikhanasa Agama". The rituals, festivals and functions in this temple are conducted in line with the rituals performed at Srivari Temple, Tirumala.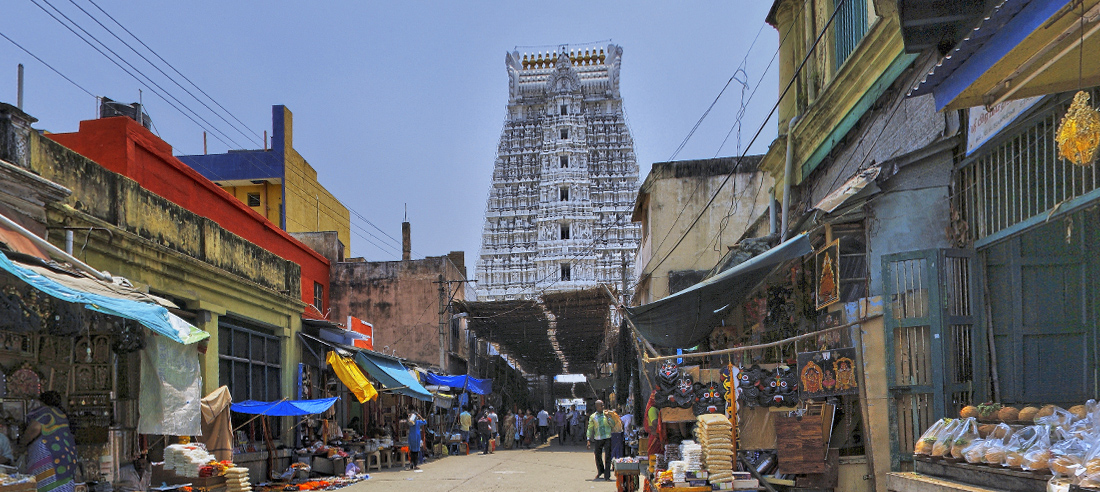 This temple is a remarkable achievement of the ancient south Indian architecture. It's tall and remarkable seven storied outer Gopuram with 11 kalasas was dated back to 14-15th century. This temple is one of the huge temples in Chittoor district. This Gopuram is enriched with the handwork depicting the scenes from Baghavata, Ramayana and Lord Sri Venketeswara swamy's life.

The tall primary Gopuram is followed by a smaller but no less remarkable inner Gopuram. The inner Gopuram holds a decorative courtyard with a spacious inner stone hall, which protects the devotee's even during the busy festival times.