This tour has 5 nodes/spots. To view each of the spot, please hover the mouse over the thumbnails and click on it in the bottom middle of the tour window. If you wish to view this sopt on the tour map, click on the Map button on the left bottom corner.
Nallamala Range

Apart from being the home for Shiva's devotees, the forest range of Nallamala is a like a god's own country. It is rich in flora and fauna and has very dense forest range that offers a premium getaway to avid travellers, photographers and adventurists. The richness of the forest is quite evident here in this photograph. Generally, people visiting the hill pilgrimage of Srisailam stop by the road across the forest to click some photographs.

Visiting Srisailam has certain constraints, if you are new and a one time visitor. You should always plan to visit the hill pilgrimage of the Lord of the Kailasa during the winter season or the offset of the monsoon, which ideally falls in the months between Late August and Late January. This is the time when the forest here is its fullest bloom. There will be water flowing through any streams if present and the greens around capture you with awe. This picture is one such places on the road ahead to Srisailam.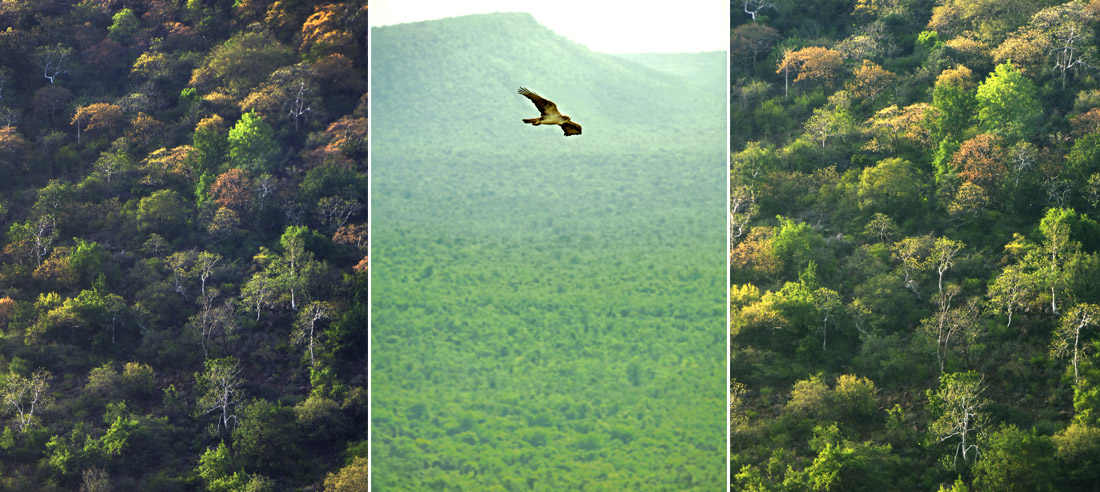 The grandeur of the nature welcomes you all the way through the road up to the pilgrimage hill town of Srisailam. In fact, the road connecting Hyderabad and Srisailam is very adventurous and proves to be a welcome journey for avid nature lovers as well as photography enthusiasts. The drive through the thick Nallamala forest range leaves you gasp with wonder. One can spot deer herds, boars and some other non-harming wildings hovering around in the forest area. However, there shall be more inside the thick jungles, which are usually sealed to the general public.

Watch video:

Beautiful trees aging some hundred years stand there in the thick jungles of the Nallamala forest reserve and welcome the travellers visiting Srisailam. Amidst the rich forest reserve, there are many different wildings. The drive through this forest reserve is bound to be a great experience for photographers, nature lovers and adventure enthusiasts.


A calm place relative to the other photographs, there is an anthill standing at a height of six foot. Likewise, there are many other wonderful aspects that one can find across the drive through the jungles of the Nallamala, one of the richest forest reserves in the Indian Sub-continent. A weekend drive, or a biker group's ride through shall be very awesome, especially during the offset of the monsoon and the start of the winter. That is the right time to be here!